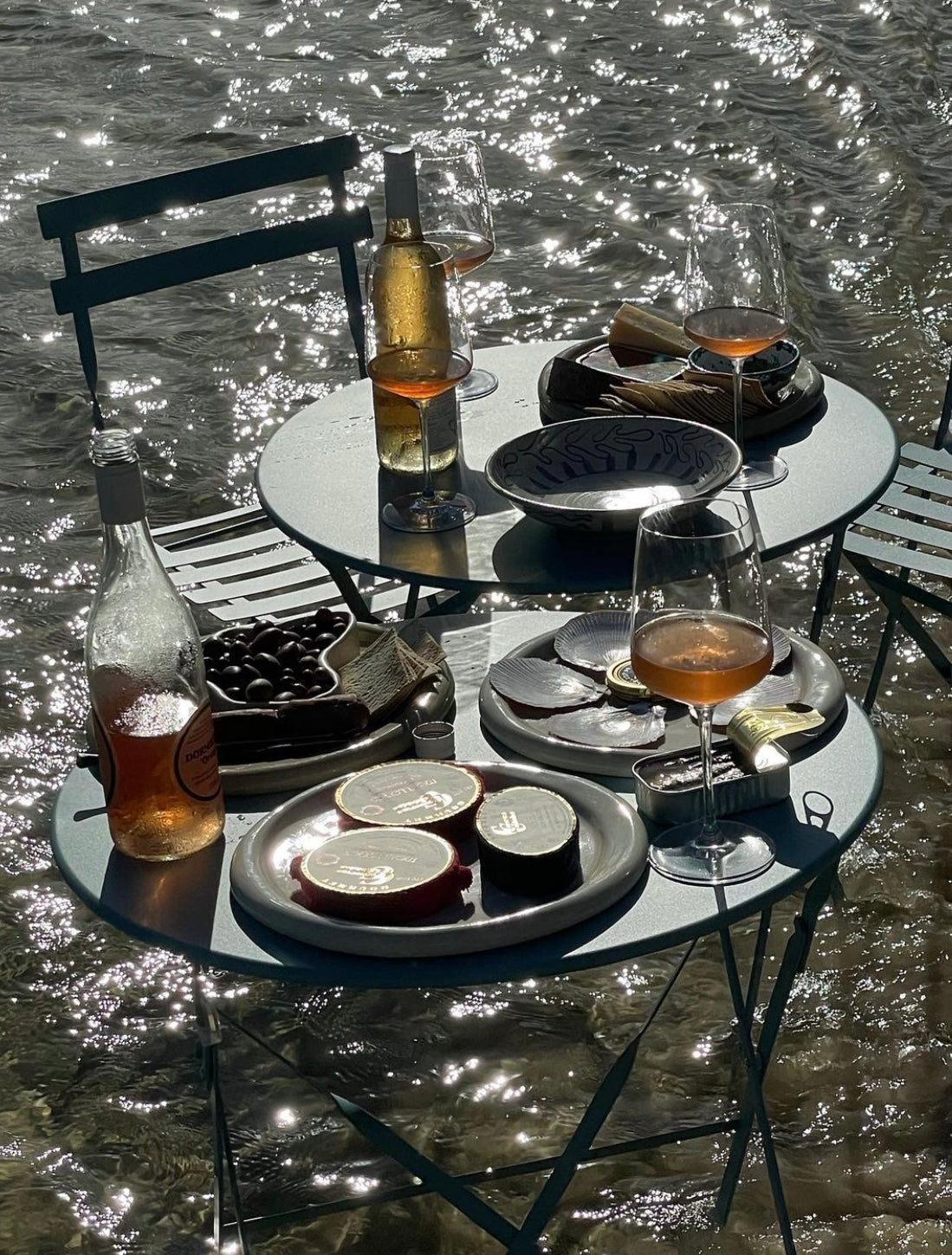 Your most indulgent and well-oiled Byron break yet.
You might be deeply into scouring the Byron Bay 'places' pillar of Instagram in your spare time, or a recent, trendy Melbourne olive oil launch could've caught your eye. Today's guests on the Gem stage are Katianna and Yianna Velos — two 20-something tastemakers and 'oil magnates', bringing their family's sacred olive oil to Australia, all the way from a 50-person Grecian village. 
Golden Groves is a 100% organic olive oil label founded by the fashion-forward, business-brave sisters, and is swiftly becoming 'the people's olive oil', exceeding expectations of what a drizzle here and a lick there can do your next bite of sourdough. 
These girls are in the business of the good life, balanced eating, spontaneous holidaying, plenty of wining and copious dining. Most recently, Kat and Yianna have been touring Byron Bay's glittering vistas, picture-perfect beaches and vibrant food scene. The duo has not only indulged in a covetable vacation, but also connected their just-launched brand with the chefs and creative set in Byron, culminating in the most delicious 'business trip' of all time. 
Gem resonates with Kat and Yianna's hustling, brand-building and female-empowering. Today, we catch up with the girls to deliver you the most up-to-date guide to Byron Bay, covering all manner of eating, drinking, beaching and shopping, as well as deciphering what to wear, and what it's been like to promote a passion project to an exciting new audience. 
How long have you been in Byron for this summer, and why? 
We have been staying in Byron for the month of January. After we launched Golden Groves, we thought it would be a good idea to recalibrate over summer and have some time to focus on our 2022 goals in an idyllic setting - morning swims, good food and even better company is what makes our hearts sing, and Byron Bay is the perfect place to combine work and pleasure to achieve this.
What's been special about your time there? 
We love Byron Bay for a multitude of reasons: the warm climate, the synergy between nature and the people and the abundance of local, fresh, organic produce. The most special thing about Byron, however, is the beautiful community of people we've had the pleasure of connecting with, both old and new. There's vibrant energy here that draws people together: corporates, creatives and free spirits alike all call Byron home, but it's the appreciation for the uniqueness of this magic pocket of Australia that binds all people together that we love most. Rainforests meet the sea, and the lush greenery everywhere you look instantly instils a sense of calm and appreciation within us. 
Best wine bars? 
One of our favourite things to do post swim at Wategos is to amble up to the terrace at Raes for a natural wine and some oysters. If we're feeling like having a bit of a wild night out, we'll head to Casaluna in town for a cocktail and a boogie. We've also loved stopping by Luna Wine Store in Byron to pick up bottles of our favourite local natural wine, Banana Girl from Northern Rivers based winemaker Jilly Wine Co.
Underrated beach spot(s)? 
We love swimming at sunset down at the Brunswick River, just a short drive away from Byron Bay. Think crystal clear waters and white sand. It makes you feel like you're on a beach in Europe. We were also introduced to the most beautiful secluded swimming spot, just past Arakwal National Park in Suffolk Park, he Ti-Tree Lake. The Ti-Tree Lake is a magical swimming spot that has been treasured by the indigenous community for centuries. The lake is known for its medicinal properties, as the oil from the surrounding tea trees seeps into the lake and leaves a thin film of healing oil on the surface of the water. You emerge from the warm, oily water feeling refreshed and rejuvenated — it's truly a spiritual and special place.
Ultimate dinner date night location(s)? 
There are so many incredible dinner date spots in Byron, with Rae's undoubtedly being the ultimate go-to spot. Arguably, however, Byron Bay is all about the long lunches. Book yourself in for an extraordinary farm-to-table lunch at Frida's Field, a 200-acre angus-wagyu farm where they rear their own cattle. The Hut Byron Bay in Possum Creek is a new favourite amongst locals for a Mediterranean inspired feast. The menu is any seafood lover's dream, with stunning local produce and handmade pasta gracing the menu, satisfying all your Italian cravings. Kouzina Byron Bay is the most wonderfully authentic Greek taverna tucked away in the industrial estate. The tables are lined with charmingly traditional blue and white checkered table cloths and the fairy light lit courtyard is bustling with all the life of a Greek island taverna. The ever-changing set menu of traditional home cooking and BYO wine option will transport you straight to Greece. 
Where are you getting your beauty sleep? 
For us, Mullumbimby a quiet town on the outskirts of the Byron hinterland is the place to be. In the middle of Melbourne's lockdown, we booked a house in Mullumbimby through Airbnb that turned out to be the best decision we made. Mullum is away from the craziness of Byron town and truly feels like a hidden tropical oasis. Our house was cosy yet lush, with all the hallmarks of a luxury Balinese villa. The sprawling garden was brilliantly green, with its own herb garden, which made cooking in the alfresco kitchen a dream. 
And how about options for an indulgent girls' spa day? 
For the ultimate indulgence, Raes is the place to go for a facial or relaxing massage. There is nowhere quite like Raes for us.
How has Golden Groves been embraced by Byron locals? 
We have been truly taken aback by how warmly Golden Groves has been received in Byron. It's been such a pleasure sharing our liquid gold with store owners, chefs, restauranteurs and locals across the Byron Shire. We had a stall at the Mullum community market where we sold Golden Groves alongside some delicious bread from the Sunday Sustainable Bakery in Byron. It was such a privilege to be able to share the story of our olive oil with the locals and to see how excited they were to take a bottle of oil home with them to enjoy. Golden Groves is a natural fit for Byron. It's organic, small-batch and intentionally created to be as nourishing for your body as possible, which is something that the locals here really cherish. We're excited to see Golden Groves stocked in stores up here, and also used by many of the spectacular restaurants in the region.
Some brands you've been living in (clothes, shoes, accessories, kinis) while on vacay? 
We have been living in Australian brands and their resort wear this summer. We love Rowie the label, which is a Byron-based brand. They have so many beautiful linen pieces and colourful knit sets that are perfect for all occasions. We also love Incu's in-house label, Incu Collection, as well as Bec and Bridge for silky slip dresses and linen sets. For activewear, we love Byron-based brand Nagnata for its ethical, sustainable and colourful pieces. You cannot go past Loleia Swim when it comes to bikinis. Their colourful bikinis capture the essence of summer perfectly. As for accessories, we tend to gravitate towards European labels, such as Prada, Chanel and Gucci.
Something you've been cooking post-swim? 
Unsurprisingly, we have been cooking a lot of pasta and seafood while we've been here. Fresh snapper, plates of handmade spaghetti alle vongole and plenty of scallops have been doused in Golden Groves olive oil on many occasions. We love the accessibility to the local markets — Byron is a haven for all who worship fresh, locally-grown and organic produce. We've been heading to the Ballina Fishermen's Co-op for all our seafood and to the Mullumbimby market on a Friday morning to stock up on our fresh produce for the week. We were fortunate enough to have an endless supply of fresh herbs in the garden of our Airbnb. It's so delightful to be able to pluck the freshest of ingredients straight from your doorstep.