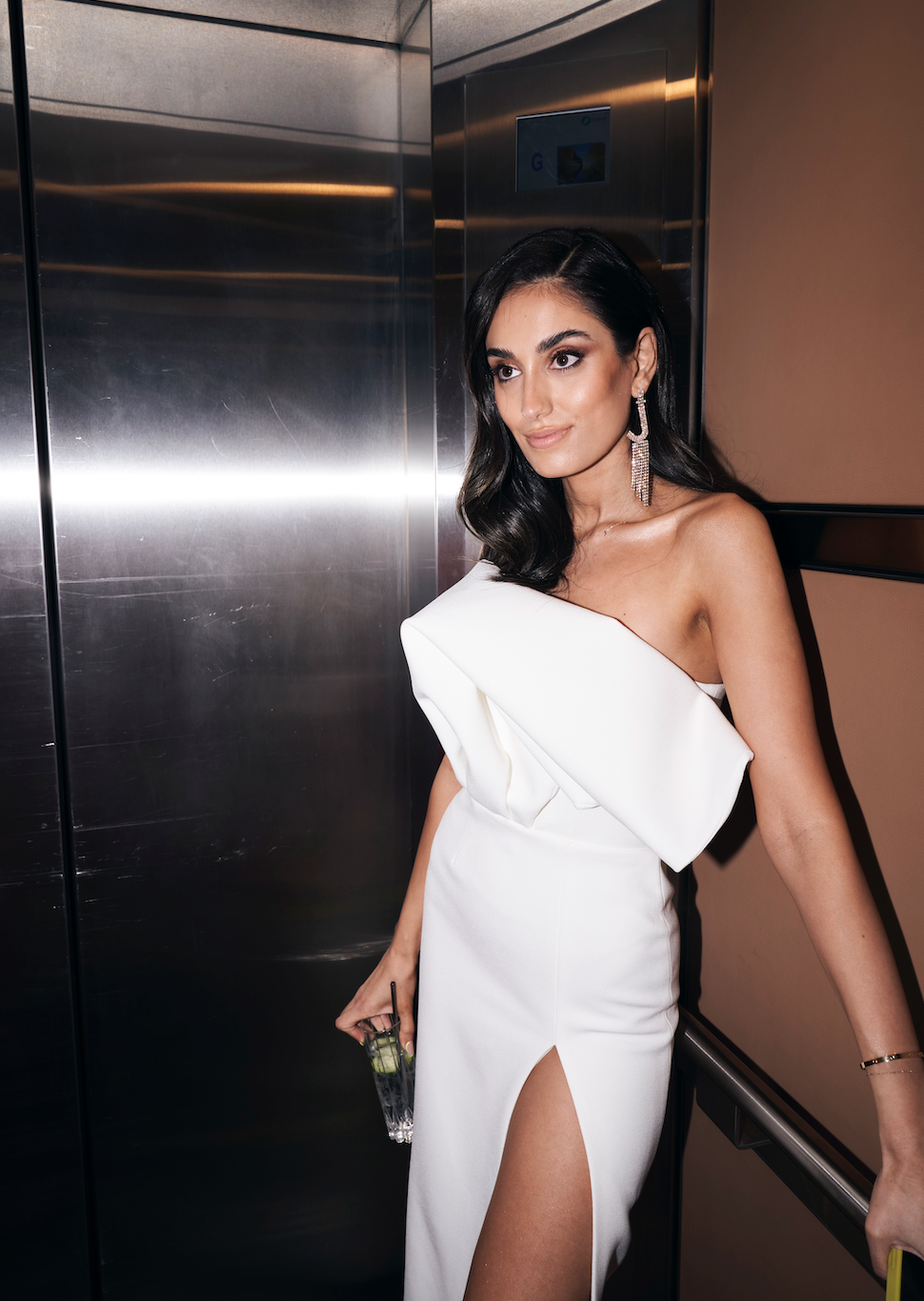 The marketing professional and TikTok trendsetter on leading your best life in cosmopolitan Melbourne
From fashion publicity to a beloved role in boutique hotel marketing,Cat Spanti has forged a career in creativity, good taste and personality. After recently celebrating her engagement in a truly decadent soirée of headturning sartorial extravagance and immaculate details, we wanted to catch up with Cat on life behind the lens in Melbourne. Here, the multidisciplinary communications specialist and fashion savant catches us up on her growing #weddingtok success on TikTok, dining in Melbourne and caring for one of her best accessories: a dazzling smile. 
Cat, we're so happy to have you here! Can you tell us a bit about what the last week in your life has entailed in both work and play? 
Thank you for having me! The last week in my life has been a mixture of work and play. My partner (I low-key hate using the word fiancé, I feel like such a tosser?) and I spent the last four days down on the Mornington Peninsula indulging in far too much food and wine! Work wise, I've never been busier. I feel like the post-pandemic rush has been absolute madness, especially in the marketing and communications industry. 
How did you end up in boutique hotel marketing and comms? What does your job involve in 2022 and why do you love it? 
By accident actually! I originally only wanted to be in fashion PR but my love for travelling sort of over took that juvenile desire. I was working agency side for quite some time, and my travel and hotel clients quite quickly became my favourite. I ended up doing the unthinkable and went in-house from there working with my former client, QT Hotels, and never looked back. Throughout my 4 and a bit years there I felt like I absorbed and learnt so much, it's actually a little bit of a blur now, especially the last two years of working in the travel industry during a global pandemic (not fun).  
2022 has been all about re-invention in the hotel, hospo and travel world. Not so much in a cosmetic way, but in an experiential way. Consumers have changed - noone came out of the pandemic unscathed (and if you did, you're one of the very lucky few) and priorities have shifted. There's a new-found demand for experience-led stays, unique activations, unexpected partnerships and one of a kind content opportunities. So 2022 has been spent exceeding these demands with omni-channel marketing approaches!
What tips would you share for Australian women hoping to break out of the corporate communications industry and venture into more hands-on roles with creative luxury and lifestyle brands?
I get asked this question quite a bit, and my best piece of advice is to a) get networking and b) get stalking. When I was younger, there was no such thing as an Instagram DM function (showing my age here), and LinkedIn was used but no where near as much as it is today. I would have savedsomuch time if I had 24/7 messaging access to the people who had the jobs I wanted! Slide into their DMs, introduce yourself, offer your time, offer an idea. You never know where those conversations could end up. Especially if you're looking for a door into a more creative role - I'm always super impressed by a creative introduction, someone who's done their research or isn't afraid to put themselves and their goals out there.
A belated congrats on your recent engagement. We saw snapshots and vignettes of the beautiful affair online, but can you dish us some details on the who, what, when and where of the party itself?
Thank you! It was an incredible day/night with all of our nearest and dearest. We had an exclusive take over of the beautiful venue Hazel, in Flinders Lane. It has this 1970s glamour and subtle adornments that I just love. The muted neutrals, glass and natural stone was the perfect, sleek but minimal base for our affair. Styling wise, I worked with The Nuptial Collective to bring my contemporary, neon vision to life (I just wouldn't have had the time with work and social life commitments, so Britt was a lifesaver here with taking care of all the logistics and correspondence). No corner was left un-turned, we had decals with a 'Josh hearts Cat' motif designed by our calligrapher. We even turned my proposal Instagram caption, 'it was always a yes from me, doll' into a decal. We also worked with Alyssa from Sour Sun Flower on the florals which were the star of the show - she nailed my vision even better than I could've imagined!
How did you dress yourself for the event, and what in? (Incl of makeup, fragrance etc if possible)
Honestly - it was kind of a nightmare finding the perfect dress for this. I ordered and triedso manyon. I finally, 3 weeks before the party, decided to get something custom made as nothing was cutting it. My beautiful designer, Mariam Seddiq, was just crazy enough to take me on. I wasn't planning on wearing white either, I originally had a neon yellow dress made (in theme, of course), but when I tried it on, I felt more yellow sharpie than chic so we canned it and went with white instead. I then used this as my base to inject the neon theme into my outfit with a pair of Mugler x Jimmy Choo bright neon yellow shoes (which I was lucky enough to get my hands on as these were limited edition and just after Thierry passed away.) I kept my accessories pretty basic as my custom Natasha Schweitzer engagement ring was the star of the show (obvi), and sourced a pair of gold '80s glamour inspired Retrofête alphabet J & B earrings as an ode to my partner. 
I had an outfit change half way through the party (because, why not?) into a bright green off the shoulder mini by Alex Perry. I wore a clear pair of Amina Muaddi Rosie heels with a crystal bow detail (my very own Cinderella moment) and Jennifer Behr drop down crystal earrings. It was the ultimate party dress and the perfect segment into the dance floor. 
Makeup was by the talented Stella Tu, we went for a classic glam look, and hair was by @hairbycaroline. Fragrance was a gift from my partner, Bitter Peach by Tom Ford. I'm obsessed with the smell, its sweet but sexy at the same time. It's also fitting as it's based off of Sicilian blood orange oil and I'm Sicilian!
What can we find you doing in your (minimal) downtime these days?
Honestly? Watching reality TV - most likely anything Bravo, Kardashians or Netflix Originals. Reality TV is the best way to zone out!
Your digital presence across both TikTok and Instagram oozes good style. What are some of the clothing items on your current wish list?
My wish list is ever growing! Right now I have my eye on all the bright new Bottega colour ways (I need either a neon orange or bright red Jodie in my life, stat). And clothing wise, winter has well and truly arrived so I'm trying to prep my wardrobe accordingly. A few Acne Studios blazers and puffers are on the list, some print silk basics from The Attico and it's been event after event every weekend lately, so I have my eye on a few bright and bold party dresses by Alex Perry and David Koma.
And how about some Australian fashion labels you typically wear to work? How do you style them? 
I try to be as tactical as possible with my 'work wardrobe'. I buy staples that can be both trans-seasonal and work as part of my casual wardrobe as well, and comfort is key for me. I'm constantly buying from the likes of Scanlan Theodore (my go-to for leather pieces and crepe knit pieces), Camilla and Marc (blazers and boots), Bassike for tanks and tees and Dion Lee for staple pants. I've also been loving brands like Henne, Venroy and Oroton recently and watching them make a resurgence. 
When it comes to your growing lifestyle TikTok channel, what kind of content do you most enjoy making and what do you find resonates most with your audience? 
TikTok for me started as a lockdown project out of boredom! I thought I'd use the extra time I had to try and work out the algorithm as it really fascinated me. I started just trialling different types of content, different fonts, sounds, lengths of content to see what stuck. I ended up really enjoying the app - it's a refreshing change to Instagram and I love to get creative with video. Now, I produce a mix of lifestyle, fashion and travel videos that are kind of an extension of my pre-exisiting social presence, but with more detail and venerability. I find my audience on TikTok to be much more interested in the granular details of my life, and I love the way it connects me with people in an off-the-cuff way. My engagement content seemed to really take off the most, I didn't even realise that #weddingtok was a thing until I got engaged, ha!
Here at Gem, we're huge advocates for enhancing one's best asset: a smile, of course. What current beauty or self-care products help you keep your skin, lips, smile and hair feeling fabulous?
I actually recently finished Invisalign (timed that well with the pandemic!), so looking after my teeth and smile is really important to me - I'm currently addicted to the Gem apple mint toothpaste flavour, if you haven't tried it yet you need to. 
Tell us about some recent Melbourne dining/drinking/cultural destinations in Melbourne (or afar) that you'd recommend to Gem readers.
How much time do you have?! I'm based Northside so I'm a little biased from a food and wine perspective. Coffee pick is Code Black, Florian for breakfast, lunch I'd head to Di Stasio in Carlton and sit in the courtyard, and dinner at either Marion or Poodle for a casual vibe, and for a special occasion you can't go wrong with Gimlet or Ides.
Lastly, how is the wedding planning process going? How are you approaching such a momentous event and what advice would you give to fellow brides-to-be?
We had a pretty epic engagement party, so we're not in a rush to get married. Josh and I are both of European decent and spent the first few years of our relationship blissfully travelling so it makes sense for us to get married overseas. Location wise - we're a little spoilt for choice at the moment but are most drawn to places we've already been in Italy, the South of France, or even the English countryside. Wherever we land, we just want it to be one big, week-long party with our closest friends and family. 
In terms of my advice to fellow brides-to-be, I learnt pretty quickly after getting engaged that it's question after question and an automatic all eyes on you. It can be pretty overwhelming at times, so I find reminding myself of the 'why' calms me down. I'm marrying my best friend and that's all that really matters at the end of the day!  The societal pressures around looking and being perfect for our 'big day' is a lot, I make a conscious effort in both my both my digital and IRL presence to not take part in any toxic diet culture narratives and write my own story.