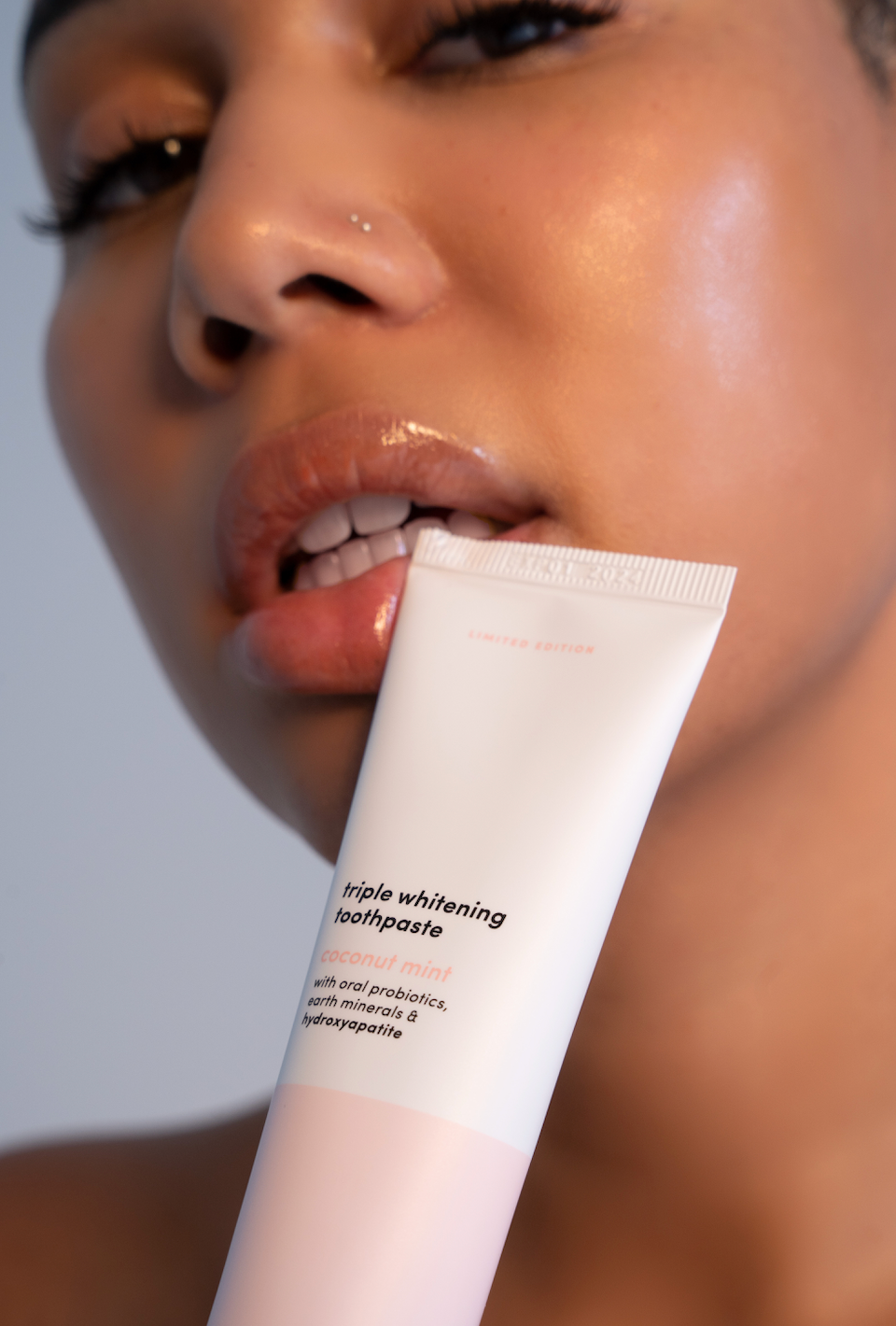 And the powerful forces of change you can donate to now.
At Gem, we're proud of the community we've forged and the toxic-free, highly-efficacious products we've created for better oral care everywhere. But we know much greater forces in life can cause an impact on our smiles, and those of the people we love.
Our hardworking Gem team receives countless messages from people undergoing chemotherapy every day — this means they can't use traditional toothpaste due to its toxicity, and how harsh it can be on the mouth. It's bigger than aesthetic packaging and fun marketing for us when we hear that Gem is an effective solution for chemo patients, minimising even the slightest bit of discomfort or difficulty.  
It's with great joy and hope that Gem has launched i=change on our website. For those unacquainted, i=Change is an extraordinary initiative that allows consumers to donate a portion of sales from a purchase made online to a select charity of their choice. It's testament to how one small act of kindness can surmount to genuine, momentous change. 
While there were so many exceptional causes to choose from, the trio of charities we have partnered with via i=Change are 3 cancer charities. This will ensure $1 of every sale at Gem is given back to what we believe to be one of the most pressing matters in our world today. 
Our founder Georgia Geminder has an unwavering dedication to thinking beyond the brand, and towards the broader community. Because what real use is success in life if you cannot use it to help others?
"Eliciting positive social change and giving back is central to everything we believe in at Gem," says Georgia. "Gem has provided a pleasurable yet effective solution for customers going through harsh chemotherapy (who are unable to brush with conventional brands). Giving back makes the journey worth it". 
Now, we're going to take you through each individual charity for a greater understanding of their purpose, values and mission. After all, making an informed decision as to the cause you are supporting is paramount.
My Room
My Room is a volunteer-led organisation, extending much-needed support to patients and families affected by cancer. They rely heavily on the generosity of their donors to fund medical equipment, clinical care and research trials that have the capacity to transform lives. $33 towards My Room provides a support session for a sick child with an oncology social worker, which is pretty remarkable. Their i=Change page reads, "children's cancer shouldn't happen – but sadly, it still does".
"When a child receives a cancer diagnosis, suddenly a carefree childhood is filled with appointments, treatment plans and nausea. Hope can feel far away, but when the unpredictable threat of cancer appears, the powerful love and protection a parent feels can grow even stronger. My Room is here to fuel that hope; to stand behind and support the parents and carers as they support and care for their child throughout their cancer journey.
Look Good Feel Better
It's no secret that Gem takes pride in appearance, crafting toxic-free and Australian-made dental hygiene products that can enhance one of your greatest assets. When we feel confident in ourselves, we feel happier in our lives. And while that may seem like the most cliché statement, we rarely acknowledge how lucky we are to have our health and beauty. We critique ourselves and our appearance all too often, forgetting that thousands of Australians are diagnosed with the completely physically-altering disease that is cancer. Look Good Feel Better is an organisation that delivers custom-made 'Confidence Kits' to patient's homes nationwide, empowering them to live a life as full and beautiful as possible. For every $50 raised through i=change, one kit is distributed to brighten someone's day. These powerful kits educate recipients on how to manage the appearance-related effects of their treatment, like skincare and makeup products. Everyone deserves to feel love when they look into the mirror.
The National Breast Cancer Foundation
Breast cancer affects 1 in 7 women — a sickening and staggering statistic, making it the most commonly diagnosed cancer in this country. It's heartbreaking to acknowledge 8 Australian women lose their life to this disease every day. $25 raised through i=Change supports the National Breast Cancer Foundation (NBCF) researchers to uncover new drug targets for chemo-resistant breast cancer. And their mission? They says "it's simple": to stop deaths from breast cancer. How? By identifying, funding and championing world-class research — that helps us detect tumours earlier, improve treatment outcomes, and ultimately save lives. We receive no government funding". With our support, the NBCF hopes to move closer to their goal: zero deaths from breast cancer by 2030. Wouldn't that be utterly magnificent?