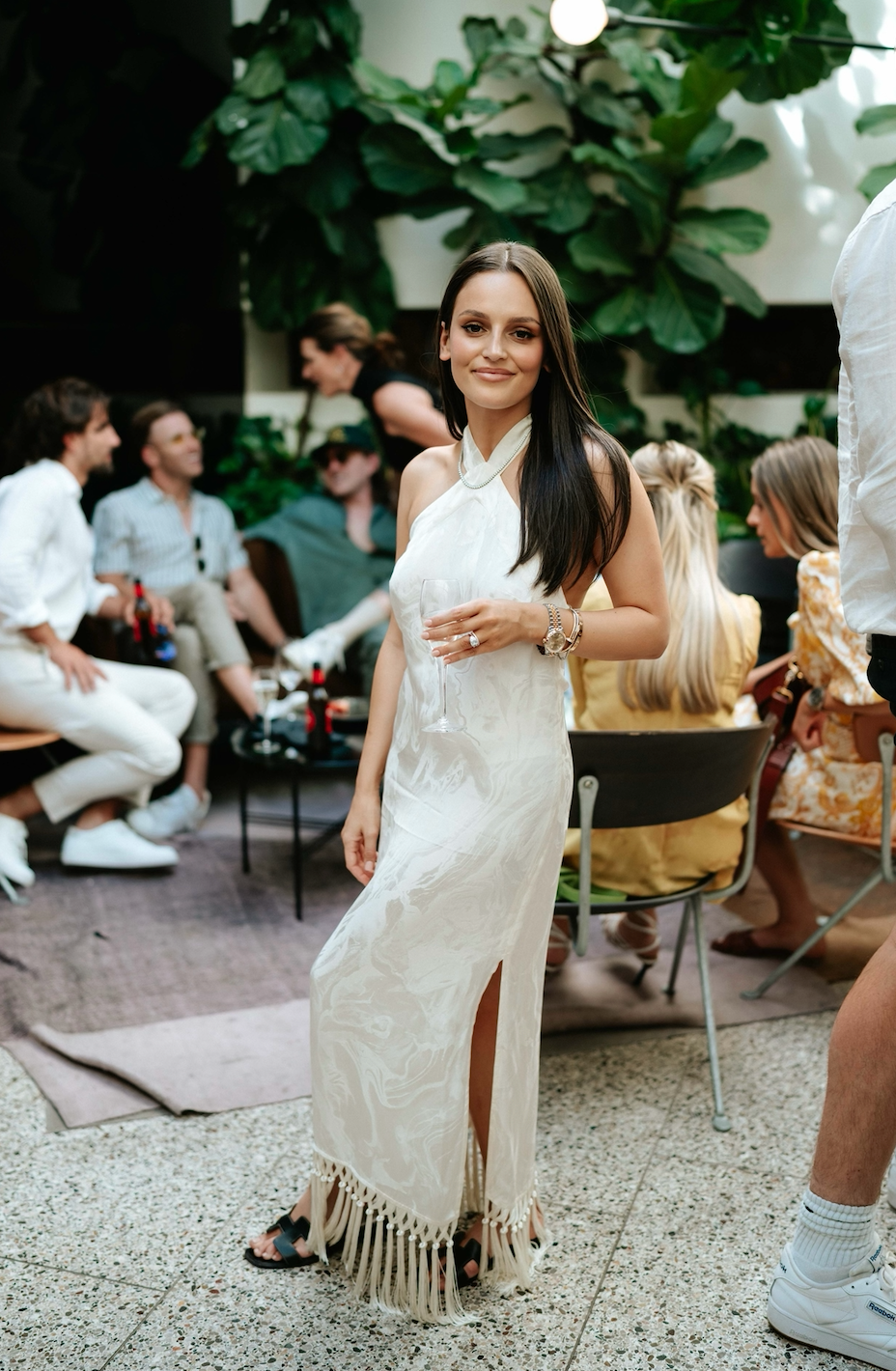 The sartorial supernova talks tricks of the trade and creating for 'joy'. 
If you're privy to the fashion and lifestyle TikTok algorithm in Melbourne or further afar in Australia, chances are you've seenKatherine Denton grace your screen mid-scroll. You've likely lingered for a while on Katherine's page to mine her slick and sophisticated vignettes, all of her unfiltered and authentic opinions on the whole gamut of life — from indulgent date nights to post-laparoscopy recovery clips. 
With a staggering following of 60,000 (and counting), Katherine's TikTok is spiked with something enthralling. Perhaps it's down to a balancing act: meshing an aspirational aesthetic with unadulterated bathroom catch-ups in real-time. There's something highly idyllic but simultaneously accessible about the way Katherine fills out her feed. And we're here for it.
A gemologist in training, Katherine balances content creation with studies and work, as well as a newly-signed contract with a talent management agency. The question is, how did her humble fashion videos first take off? And what does she put her success down to? Here, Katherine sits down with Gem to dish her off-camera advice, posting strategies, and ethos around building a presence online. ATT: All sartorial TikTok fellows looking to grow their digital media presence. Take note.
Tell us a bit about the content you produce on TikTok — what does it entail?
My content falls under lifestyle, travel, beauty, fashion and vlogs. I post a lot of GRWMs, usually filmed in my bathroom or in my bedroom when I'm building an outfit, or doing my skincare or make-up routine. 
I also share snippets of my life through vlog format, which showcases working in the jewellery industry and more specifically my studies in being a Gemologist — as well as my personal social life! My TikTok account is like a large WhatsApp group where I just post as if I'm sharing and talking to close friends. 
What are your favourite videos to make? 
I love making GRWMs — these take the most time however they're so fun to make and watch over. I also really like creating vlogs and merging 15 - 20 clips of my day into a short video. 
Your TikTok following is growing at breakneck speed. When did you first notice a real spike in followers, and what do you think it was down to?
I had a couple of viral videos at the very beginning. The first, which is just hilarious to me, was a video of me making the infamous Emily Mariko fish and rice dish. This didn't really spike my followers because the content that went viral wasn't really a reflection on what I usually post. 
My second viral video was on my birthday which was 3 weeks after I started posting on TikTok. This helped with followers. However, ultimately my wedding videos went viral and accumulated something like 6 millions views in total and I grew something like thirty thousand followers from it.
I think all wedding content does relatively well on TikTok but I think the way the videos were filmed and then merged together really told a story of the day and the morning of our wedding. So it was like taking the viewer on a journey! It's really special to watch back now and have these short videos from such a special day.
How do you stay original and authentic in your video creation? 
I started posting on TikTok purely as a creative release, so for me it's always just been about posting what interests me and creating pieces of content that I would like to see and enjoy watching.
Posting on TikTok takes time. For me, It would be impossible to keep my content so consistent if I wasn't being authentic. It would be so exhausting and not enjoyable at all! 
Everything I post is really just a snippet of my life and things that interest me. It's just been a complete bonus that others are following along and now I have such a wonderful community to share things with. It's also opened a lot of doors for me — which is incredible!
What are some small, more mechanical tips to make TikTok videos interesting and engaging? i.e. certain hashtags or editing advice or camera quality?
I definitely think the camera quality makes a difference when posting on TikTok. I always ensure my camera settings are on the highest setting possible. In saying this, it doesn't mean you need an entire production team or to film on a camera. The best thing about TikTok is it's a lot more natural and unfiltered compared to Instagram or maybe Youtube. An iPhone camera is perfect, I film all my TikToks with my iPhone and edit them within the TikTok App. 
Hashtags are great when you first start posting. For example if you're posting makeup tutorials, hash tagging #makeup #makeupturotial will help the TikTok algorithm push out your videos to like minded creators and viewers. 
I also believe that if you're not passionate about what you're talking about or producing — this will show and the aftermath will not be an engaging video or interesting content. 
That's why I think it's so important to post what really interests you and to show your personality. There are SO many people on the app and there is only one of you so use that to your advantage. 
In saying all of this, I don't work for TikTok and I still get confused by why some videos do better than others. This is just my personal experience and advice from being on the app!
You've just been signed on with management, congratulations! How did this all come about and what does it mean for your future work?
Thank you! It's all very exciting and I'm still in a bit of shock as I've only been posting on TikTok for 6 months now. It happened very quickly actually — MAXCONNECTORS reached out to set up a meeting and then the next week I was flying up to Sydney to meet the team and other talent! 
I love creating content, so signing with management has been such an exciting chapter for me. It opens so many doors to create and work with brands that I could only dream of working with. 
I'm definitely staying in the jewellery industry and will use my skills as a Gemologist moving forward. However, at the end of this month I'm moving to a part-time basis to allow me to balance between my studies, work and creating content.
How do you balance content time with a nine-to-five as a diamond consultant whilst finishing up your studies as a Gemologist?
If I'm going to be honest, it's been very difficult to juggle! Especially in the last 2 months — I like to think I can do it all but I can't. As mentioned, I have recently taken a step back from my 9-5. As working full time, creating content, attending events and with my studies has become nearly impossible. I never realised how much time and effort it took into creating content until now!
I'm at the GAA twice a week finishing up my studies as a Gemologist, which right now is at the top of my priority list. I like to film my content throughout the day and edit as I film.
The best thing about TikTok is you don't have to take it too seriously and just have fun with it!
Who are some of your ride-or-die local women to watch on TikTok?
I have sooo many! I'll name three: Maxine Wylde, Jess Alizzi and Riley Hemson.