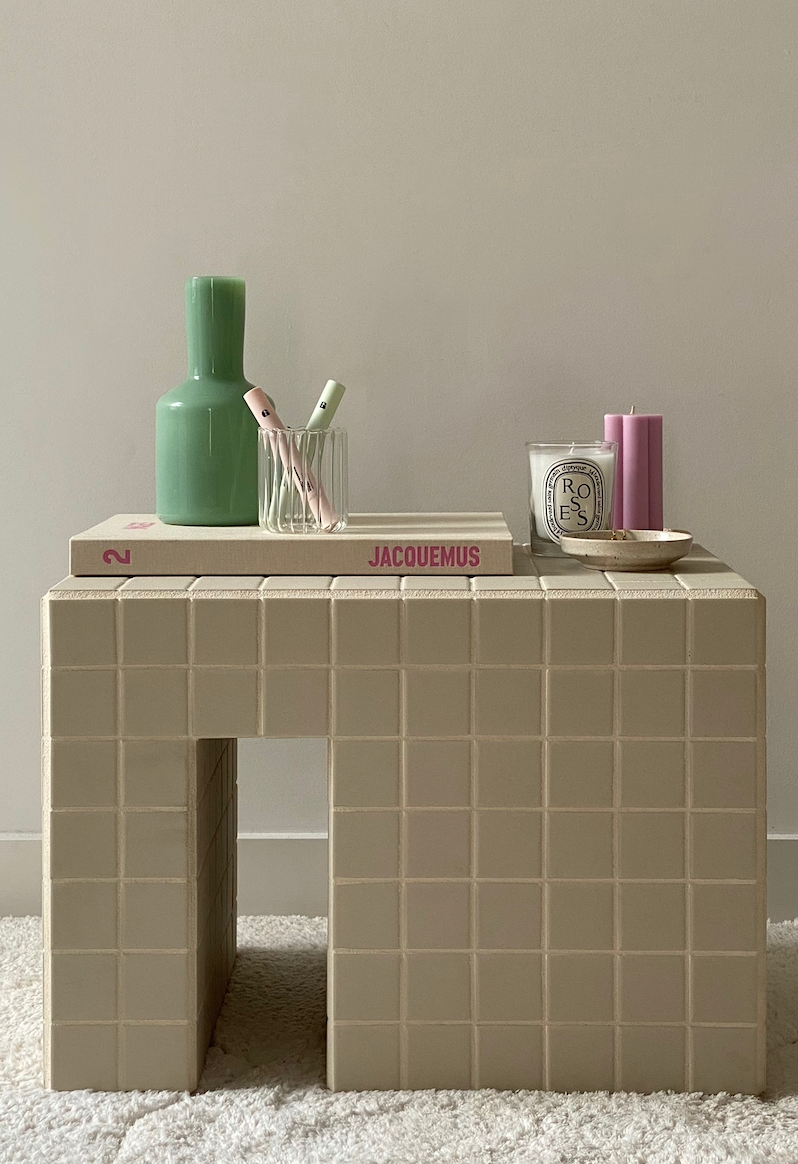 Cute and functional trinkets, books and adornments from Gem's favourite tastemakers. 

You've likely heard of the hot girl side table by now. It's a talisman of great aesthetic proportions, but also a tiny touchpoint to collect all of your most beautiful and functional things. A bedside is a personal realm of self-cultivation tools, soul-lifting things (being the first you see every morning and the last you see at night), intricate trinkets and worthy tomes. 
While TikTok's contribution to the *that girl* phenomenon is often scrutinised for its impractical and unrealistic idylls of womanhood and false perfection, having a curated side table can quite simply be a little slice of joy worth cultivating. Here, we run you through Gem's tried-and-tested favourites for a flourishing display of a) charming and b) purpose-built essentials — all to keep within arm's reach of your most sacred place: bed. 
HYDRATION, S'IL VOUS PLAÎT
Maison Balzac's 'Jai Soif' carafe and glass set is a mainstay adornment, and a means for thirst-quenching. Not only is this duo piece coloured in vibrant hues and perfectly-sized for a desk or bedside, it will put an end to the laborious exercise of retrieving water in the middle of the night (when your glass inevitably runs out). 
BEDTIME READING
Reading material is a subjective choice when it comes to your bedside roster. Ours currently holds  Conversations on Love by Natasha Lunn — if you're reeling from Dolly Alderton's latest, this collection of romantic musings contains an essay from the literary goddess herself. Other recent triumphs to start stacking are:  My Year of Rest and Relaxation by Otessa Moshfegh,  Insatiable by Daisy Buchanan, and  Trivial Grievances by Bridie Jabour. 
If you have a side-table of gargantuan size, some display books can be warmly welcomed for tactful colourplay. Think: anything Assouline or Slim Aarons for on-demand escapism, well worth dreaming about. 
IT'S A PLEASURE
LBDO is joining the sexual pleasure renaissance, challenging everything we've ever known about tools and modes of personal (and shared) intimacy. Expect stylish lube, made for humans everywhere who want to feel good, sans shame. It can sit pretty in your bed's orbit, packaged in a chic vessel — no drawers necessary. Your favourite toy from the LBDO lineup will play well with that beside lubricant, standing you in good stead for a hot girl summer like no other.
SELF-CARE, MEET SHELF-CARE.  
The 'desert island' esque handful of things we use on ourselves every day and night (insert balms, potions or perfumes here) can occasionally qualify for bedside residence. In the AM, our  Coconut Mint Whitening Pen is like an appendage at this point, and we're pining for a vial of  Dear Polly to pedestal close by. For instant relief from dry patches head-to-toe on PM time, it has to be a tube of Bangn Body, or classic dollop of  Aesop's Resurrection Aromatique Hand Balm. For lips,  By Terry's Baume de Roseis an overnight miracle worker.
SMELLS GOOD
Fragrance holds magnetic power over our memories and emotions, stirring nostalgia or shifting moods with ease. Candles and incense can define the signature scent of your bedroom, signalling a place of solace every time you (or a visitor) returns home. We're burning deeply for  Boy Smells, and can't stop thinking about  Corey Ashford's Oyster Incense Holder.