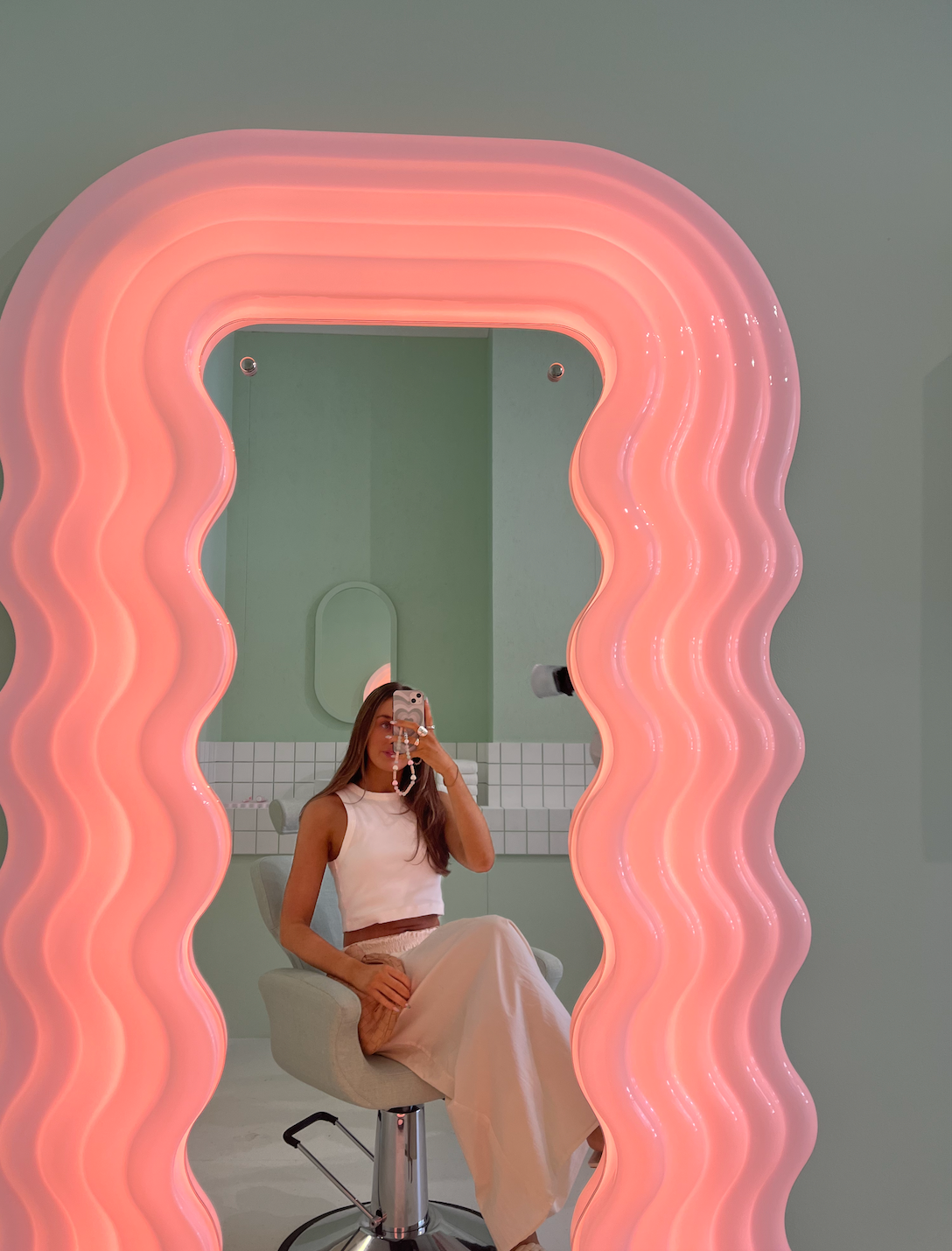 Our exceedingly talented Social & Marketing Manager shares sage career advice, chic officewear and the dental advice that's stuck with her since starting at Gem.
Ever wondered how to land a marketing role in the Australian lifestyle industry? Or what a 20-something Gem devotee does to keep her smile in check? Maybe, you're just stuck on what local brands to don for your next day in a stylish office. Whatever the dilemma, our latest interview with Gem's clever Social and Marketing Manager Lily Noonan is brushed with wisdom, rinsed with expertise and polished with experience. 
Here, we catch up with Lily (a rarity given her very busy schedule) to talk about all facets of oral care and content creation, inside and outside of Gem's halls. For any fellow marketing professionals or budding creatives hoping to gain insight or garner experience, allow us to introduce you. Between Lily's good smile and even greater work ethic, we're here to sanction her advice as golden — or rather, pearly white. 
What's your role at Gem HQ? 

My title is Social Media and Marketing Manager at Gem. However, being in a small start-up, I get exposure to a lot of the business and have my fingers in all sorts of pies! 
Walk us through the last day of your work life. 
I love that every day at work is different. I have my main tasks and priorities that I get stuck into instantly each morning, and then I get to whatever the day throws at me! Today, my day consisted of emails with a coffee in hand, checking in with influencers (gifting and content production), and working on our Gem 'Glow Up' series featuring our incredible whitening pen results. I dabbled in some social tasks, like drafting copy for LinkedIn posts, organising UGC (user generated content) and importing photographs in our Instagram grid planner app. I also work closely with Georgia and our graphic designer Coco on our social calendar, sourcing treatment inspiration and ensuring all promotions are aligned with the monthly strategy. Content needs to be produced in a timely manner.
I liaise a lot with our digital marketing and UGC agency on content and promotions – be it an online promotion or social giveaway. Today, I was working on an exciting gift with purchase promotion with 35mm Co that should be live on our site now! I'm also in charge of customer service and community management, necessitating responsiveness on emails, Instagram dm's and Facebook messages for our lovely customers. 
It is the end of the day now, which for me is my TikTok time. I usually leave the last hour or so to creating and editing TikToks so that we have a constant stream of TikTok content banked up and ready to upload. 
A few office workwear wardrobe staples? 
I can't get enough of my Camilla and Marc Amaia Blazer. It was such a huge investment for me but so worth it! It's the perfect work-to-wine-night piece in my drobe. We're also lucky in the Gem office in that we can be a little more casual and wear denim. My go-to pair of jeans at the moment are the A Brand slouch jeans. I love pairing the blazer with the jeans to dress it down and make the look a bit cooler.
It's first thing in the morning — what's your oral care routine?  
I wake up and brush my teeth with the Coconut Mint Triple Whitening Toothpaste. I love the coconut mint flavour, it is so sweet and delicious and also, the minty flavour is not too harsh on my mouth early in the morning. It is weird — I can do spice and chilli in food, but when it comes to toothpaste I can't handle a really strong mint flavour. The coconut mint is therefore perfect for me in the mornings. I usually then do a quick workout or walk, have some water and go in with my coconut mint whitening pen before leaving for work. 
Throughout the day, how do you maintain a high-shine smile and fresh breath?
I find that using Gem's Triple Whitening Toothpaste day and night my teeth have seriously gotten lighter, which is amazing. I am a sucker for a coffee as soon as I get into the office, so I always keep the Gem breath spray on me for touching up. I literally have one in my work bag, one in my car and two at home for backup. It's a true staple, and I've converted all my friends too. 
What's the biggest or most unexpected lesson(s) you've learned about oral care since joining team Gem? 
This may sound silly, but the importance of flossing. I would always brush my teeth day and night for two minutes each, but I never used to floss before working at Gem. Lazy. But honestly, and probably like a lot of people, I didn't really think it mattered because I was brushing my teeth properly (morning and night for 2+ minutes each). I thought that meant I was getting a good clean. Being at Gem and working so closely with our dental advisors, my knowledge on flossing has expanded and I have implemented it into my nightly routine.  
Our dental advisor Dr Madeleine Duff spoke a great analogy on flossing. She explained that not flossing your teeth is like getting your car washed but only getting the outside of your car cleaned. Everything inside the car is still dirty and will continue to build up over time if you do not clean it. Adding flossing into your oral care routine is essential to get to those extra crevices that your brush can't reach! I am so excited that Gem has finally launched their new Floss Picks! They are so easy to use and make flossing super simple, quick and easy. 
Let's say you've been out for after-work drinks and dinner. It's pre-bedtime and you're in the bathroom — what's your PM routine for pearly whites? 
I tend to choose one of the stronger, mintier toothpaste flavours from the Gem range. My go-to paste at night recently has been the Watermelon Mint Triple Whitening Toothpaste. I love the way my mouth feels after a strong minty flavoured brush at the end of the day. I also have a swig of the Oral Microbiome-friendly Mouthwash every night too. There's nothing worse than waking up after a night of eating and drinking and having that aftertaste in your mouth – I need to get rid of everything and my mouth must feel minty-fresh before bed. 
How about skincare or other nighttime rituals? What are you loving right now? 
I am obsessed with the Mecca Foam-O Gentle Gel Cleanser. I find it's a great makeup remover and facial cleanser, containing niacinamide and aloe vera for extra hydration. I've also been loving some Drunk Elephant at the moment, namely their B-Hydra Intensive Hydration Serum, the Glycolic Night Serum and the Virgin Marula Luxury Facial Oil before bed. Lastly, I go in with the Glow Recipe Watermelon Glow Pink Juice Moisturiser. Can't you just tell I love a dewy, glowy finish!
For aspiring social media and marketing managers, what would be your best advice for cutting your teeth (pardon the pun) on the lifestyle, beauty and fashion industry in Australia? 
Interning! I think University can only teach you so much, so hands-on work and getting a proper understanding of the industry is where it's at. Reach out to brands you like on Instagram or their email on their website. Message brand founders or employees on LinkedIn. I actually got my role at Gem by reaching out to who I now know was Georgia (our founder) replying on the other end of the email. 
I followed Gem for a few weeks beforehand and loved what they stood for, along with their brand personality on Instagram. I hoped to be involved somehow, so I reached out to intern and get experience in the field. After only a few weeks, I was offered a full-time role! The morale of my story is: put yourself out there. It is so worth it in the long run, and the best decision I made was to be bold.