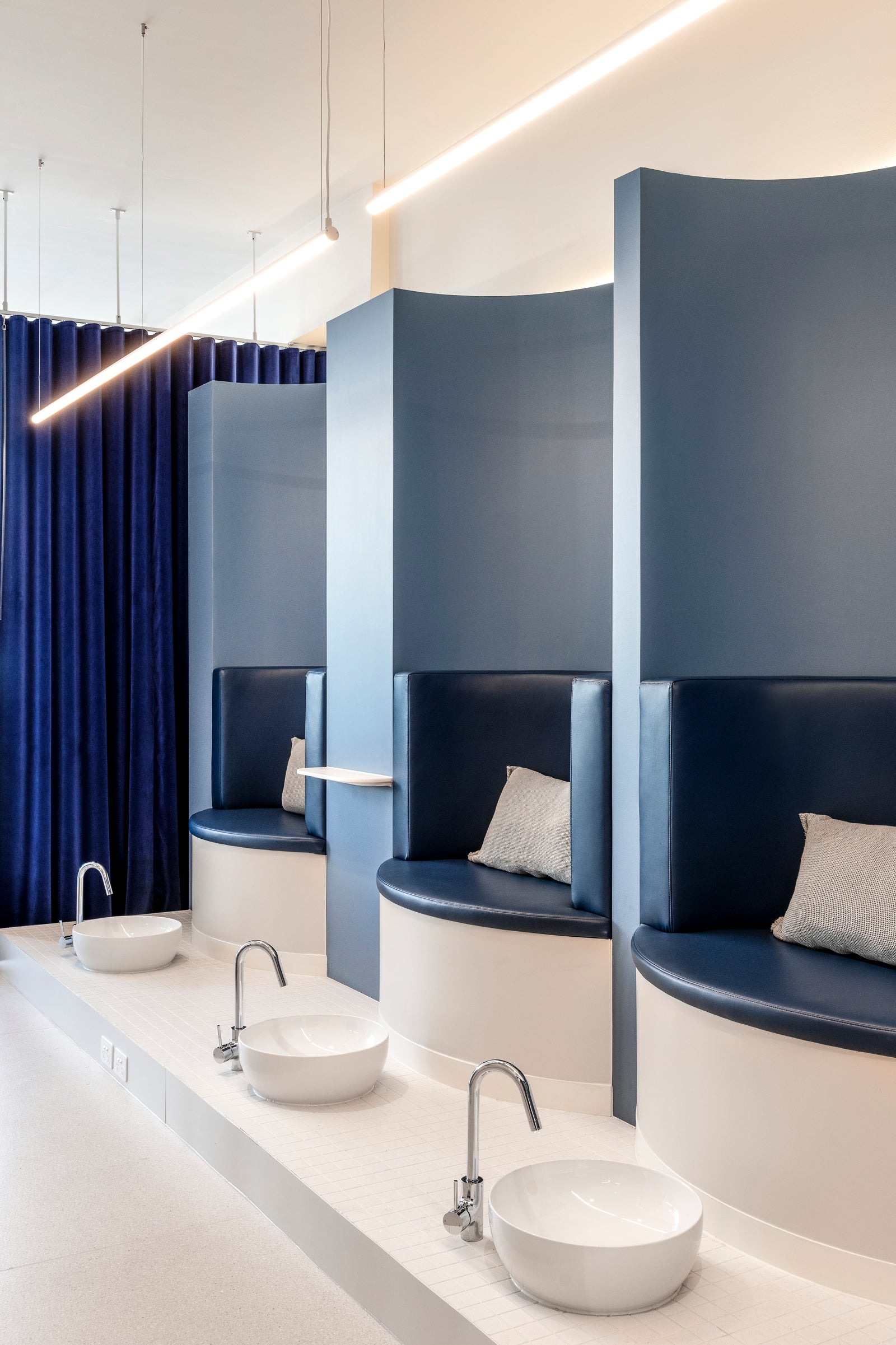 Reinventing the nail salon experience, one masterful manicure at a time. 


Emma Forrest is a self-confessed beautyphile and trailblazer. She cut the ribbon on her first Buff Nail Studio back in 2020 to revolutionise the nail-care industry at large, and has since transformed the way we mani and pedi. 
In lieu of the cheapest and fastest salon stint, Emma longed for a nail experience that would indulge, nourish and inspire its clientele. She also finessed the ultimate brand look and feel to tell Buff's story of premium (yet accessible) nails, setting the tone for a new era of nail-zhuzhing.
After heading up product delivery for a 5-year innings at skincare giant Aesop, Emma honed her knowledge and knack for quality products and the pinnacle of customer experience. From there, she undertook training in nail technology and built the concept of the cobalt-blue, slick and highly-aesthetic Buff studios (yep, plural!) we know today. 
Emma has been hard at work, expanding the biz from its original Brighton postcode to a second salon, and a third on the horizon for early 2023. She's even prepping to unveil an at-home nail care and polish collection later this year, as well as raising two human babies of her own.
Today, we catch up with the brains behind Buff to chat intrepid business ideas, great nails and turning career goals into thriving realities. Welcome, Em.
Buff is a beacon of good nails, impeccable aesthetics and great vibes. How does the BUFF experience differ to that of your traditional nail salon? 
The Buff vision is to elevate the nail care industry standards and experience both here in Australia and around the world. This means that every interaction with our brand spanning the service, staff and spaces need to reinforce that — everything we do has an intention and purpose to ensure customers not only have healthy, beautiful nails but truly enjoy the ritual of having their nails done.  The other major Buff "difference" is the talented, highly skilled, and trained professionals we have working with us.  We want to provide career paths for all our staff that enable real opportunities for talented and passionate nail artists across a number of different parts of the nail care business. If that means access to training, new job roles or personal growth within the role they are in, we think investing in our people makes us very different from your traditional nail salon operation.
How long did it take to transform Buff from idea into reality? And how — who and what helped you during the ideation and building phase? 
For 10 years I had a burning belief that the experience of visiting a nail salon should and could be so much more. I knew there could be a better benchmark globally just like there had been in every other area of beauty. Having healthy, beautiful long-lasting nails and a great experience to match was something I struggled to find all over the world, particularly in Australia. In 2019 I took the next step and presented my vision to my partner in life and in Buff, Aaron. Aaron has had great success in business himself and when he got on board, it helped me put down the strategic foundation for the Buff business and less than 12 months later, we opened the doors of Buff Brighton.
How did your time overseas in a digital product delivery role influence the concept for BUFF? 
Aesop as a company influenced me so much. It allowed me to understand how brands, specifically in the beauty and self-care space, can play such an important role in people's everyday lives. Helping deliver a new global online experience meant I spent a significant amount of time focussed on creating and curating global customer experiences and interactions, albeit in a digital space, this really developed my sense of how big an impact the little details and nuances in a brand interaction really have. It's the cumulation of all the small things, that aren't even explicitly seen or noticed, that can make something so memorable.
Must ask, what's your go-to manicure right now? 
I'm stuck on our Super Gel Manicure — which is a detailed manicure service finished with a 'builder gel' on your natural nails for added strength and structure making them super durable (which as a mum is a must) lasting me around four weeks. I like a super sleek, natural look so I more often than not opt for a semi-sheer nude colour — but whether it's subliminal pregnancy cravings or not at play, I'm on a run of rich chocolate-y tones right now.
And how about an easy at-home manicure maintenance tip that most of us overlook? 
The simplest and most effective at-home maintenance technique is to focus on keeping your nails and hands hydrated with a cuticle balm and hand cream. To let you in on a little secret, Buff's own at-home nail care range is launching at the end of this year. We know that great nails start at home and just as everyone has a skin care or hair care routine, we believe everyone should have a simple nail care routine, so we've developed a series of at home nail care rituals that focus on supporting healthy, beautiful hands and nails from home.
You're about to release a second tiny human into the world. And launch a third Buff studio. What would be a perfect, hypothetical day of soul-care, just for you?
I often feel like I'm running to other people's schedules so for me a solo day out spent at my own pace is heaven! It probably involves me sitting solo in a café over a delicious brunch and good coffee followed by a remedial massage and a facial. Sounds so simple, but for me taking time to myself solo is my self care.
Who supports you in your day-to-day life to bolster Buff's success?
My partner, who is both a business partner and my life partner. We have a very collaborative relationship in all areas of our lives that somehow just flows.
When you were in your early 20's, what were your biggest career goals? Do you think you've reached those? 
I have always and will forever be a massive online shopper so I always wanted to work for a global retail brand and create compelling online shopping experiences. I really got to achieve that over the years for the various local and international retail brands I worked with. My other career goals have evolved so much after starting Buff and I am on track to hit a few of those this year.
As cliché as it is, what advice would you give to that ambitious 20-something-year-old self?
Invest in improving yourself. Go and get real world experience, both in life and in business, because nothing beats being hands on and in the thick of it. Get out of your depth and say yes!