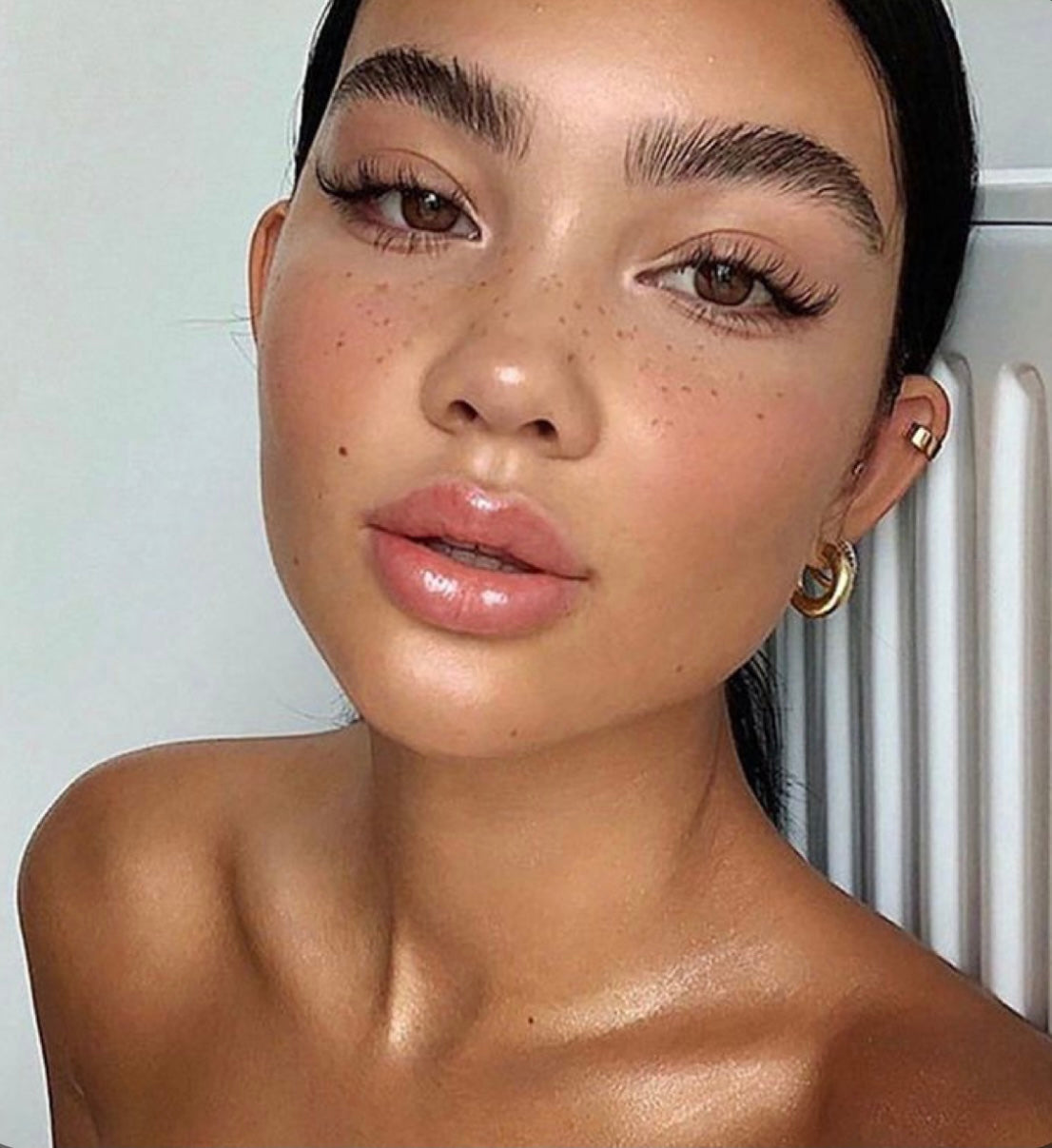 All of the beauty bits: from faux freckles to forging your glowiest base yet.
The holiday hiatus from our offices, routines and quotidian commitments comes with a slate of special-occasion dressing and face-painting to match. It's a time of tinted moisturiser depletion and regular SPF reapplication. Your trusty handbag will contain myriad spritzes, lacquers and sweat-proofing powders. But what are some of the best, most streamlined and expert-approved ways of getting our beauty products working at their optimum? 
We've summoned beloved and exceedingly-talented Melbourne makeup artistArielle Wray to lend some tried and tested advice, as well as shedding light on some of her off-duty skincare and self-care rituals. From newcomer trends to mastering a red lip (and getting it to stay put throughout the course of a hedonistic evening), Arielle unlocks some of the most mystified makeup secrets. You are oh-so welcome.
Arielle, hello and welcome! What will your party face consist of this year?
Hellooo! My party face will most likely be super dewy skin courtesy of Go-To's Face Hero (aka my holy grail skin product), Hourglass' Ambient Bronzer, lots of Mecca Cosmetica's highlighter, fluffy, brushed-up natural brows with Refy Brow Cream, Kevin Aucoin mascara, and Mecca's nude lip pot on my lips.
Top 5 beauty-leaning gifts to give this year, to the girl that has it all?
My number one would be the Glow Recipe Watermelon Glow Sleeping Mask. It literally smells like a tropical holiday and leaves your skin super plump. The Charlotte Tilbury Wonderglow also gives you a super lit from within look to your skin, and you can use it under makeup as a glowy primer. Or, just use it by itself as a 'your skin but better' product. If you want to be super boujée, the Sunday Riley Good Genes Serum is the ultimate exfoliating/brightening skin treatment. 
If we're wanting a bold red lip destined to make our pearly whites shine extra bright, what would be your pick? And how can we make it last the distance?
I love using Lou Lou Lips' deliciously juicy red 'Satine'. I'd also add their gloss balm in 'dry ice' on top for some hydration and extra sparkle. 
For a hot and balmy summer's evening out with the girls, what are some non-negotiable beauty/skin items that join the party in your handbag?
Definitely my Laura Mercier setting powder, I have a mini one that fits perfectly in my bag. I dust some on my oily areas of the face to keep away any unwanted shine. Also cannot leave the house without my Nars Creamy Radiant Concealer. You just never know when you'll need some concealer.
And when it comes to the PM take-the-day-off routine, what products are on your roster right now?
I love using my face halo makeup remover rounds, all it requires is water and it does all the heavy lifting for me when taking off my face. Then, I go in with the UltraCeuticals milk cleanser, as it's a really gentle creamy cleanser that won't strip my skin. Next comes their B2 hydrating serum and hydrating cream. IMO, this combo is the best for sensitive temperamental skin like mine.
This season, what are some of the best and bravest beauty trends you've been seeing? How are you adapting them for your clients and/or yourself? 
I'm LOVING the coloured wings this season. Winged liner is always a stand out beauty trend for me but now with the added pop of colour, it gives you a little bit extra wow on your face without goingtoooverboard. 
What's been the most popular look across your clientele recently?
Definitely faux freckles! Everyones been asking for a few to be sprinkled over their nose/cheeks. I do this with a brow pencil to make it appear super soft/natural looking. My fave is the Mac shape and shade brow tint.
After a challenging 2021, what are you most looking forward to work-wise in '22?
I'm looking forward to helping all of my beautiful brides look incredible so they can finally get married in 2022! So many of them have missed out these past two years with covid so I can't wait to make them all feel gorgeous for their special day.
When you're not in the AWB studio, where can we find you? What are some of your go-to pastimes at the moment?
You can definitely find me at any Japanese restaurant in Melbourne, probably most likely Y14 in Sandringham. I LOVE their sushi and sashimi plate. Also relaxing at the beach with my girlfriends or getting my endorphins fix at F45.