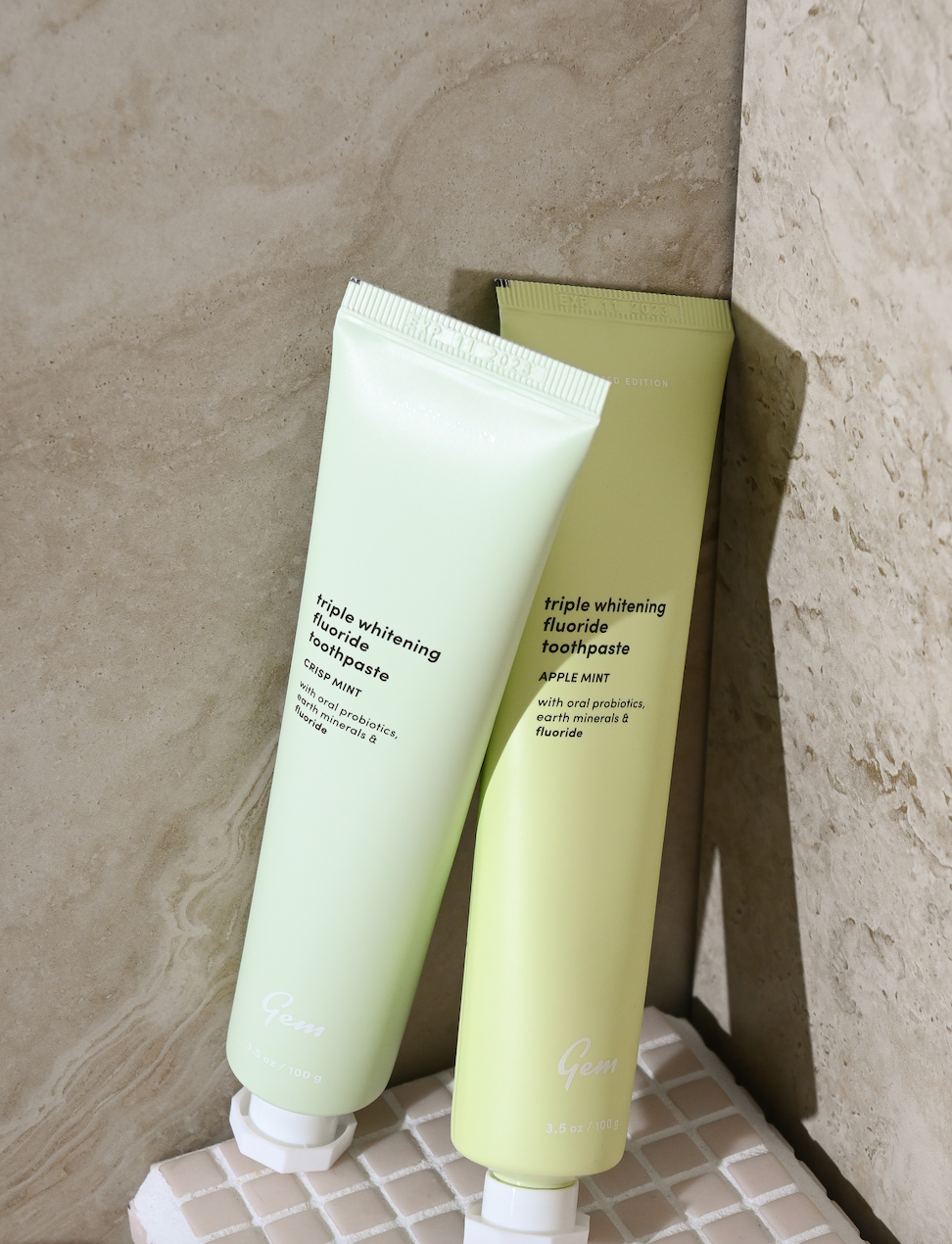 Meet Gem's brand-new toothpastes, bringing safe usage of fluoride to the fore of your daily brushing.
We've made some impressive progression in the trendiness, underrated glamour, and science of loving your smile. Now, Gem is making its first foray into fluoride, releasing a capsule collection of Crisp Mint and Apple Mint toothpastes to unearth your best pearly whites possible. 
Classic, cool, and always in style, Crisp Mint is your go-to for the ultimate mouth reboot in minimal time, while Apple Mint is fruity and fresh alternative to your typical brushing flavours. 
Our ethos will always revolve around questioning daily-use products to develop oral self-care that looks equally good on your basin as it does after working magic on your teeth. So, while we're welcoming fluoride after rigorous research, our overarching mission is still to bring Gem's toxic-free, probiotic-rich sparkle to you safely (and beautifully)  — however that might differ from one girl's routine to the next.


So, what is fluoride, and why should you care about it? 
According to the Australian Dental Association (ADA), "fluoride is a naturally occurring mineral, which may be found in fresh and sea water, foods, and beverages such as black tea. Fluoride may also be added to drinking water, over-the-counter and professional dental products. Fluoride makes teeth stronger, helps to prevent cavities, and it can heal early-stage tooth decay."
Basically, fluoride is our friend in small doses when integrated into dental hygiene products. And it's all about quality over quantity here at Gem. We've added the perfect amount of it into this formula, guided by expert advice. Sodium bicarbonate and silica fuse inside this tube, aiding in the cleaning and heroic whitening of tooth enamel.


Why are we introducing fluoride into Gem's repertoire? 
Gem's Triple Whitening toothpaste with fluoride is the ultimate, no-nasties toothpaste that actually works (both at a granular level, and one that you can see in the mirror). We're probiotic-rich, Australian-made, and the first toothpaste in Australia to contain an oral probiotic. This new duo is enriched by a small (but potent) dose of the mineral origin fluoride, Gem works to prevent dental cavities and maintain a healthy, happy mouth flora. 

But, which Gem products do I choose to use now?
No matter your preference, fluoride or non-fluoride, we have an option for you. The tyranny of choice can be overwhelming at times, but we set out to build a universally-pleasing bathroom cupboard of Gem products, delivering alternatives to fluoride, first, and now a safe way of reaping its benefits, second. You could be an OG Gem loyalist, or find out that fluoride is your smile's best friend after giving it a go. Maybe, you'll oscillate between our collection after each empty tube, until you land on the mainstay that works best for you.