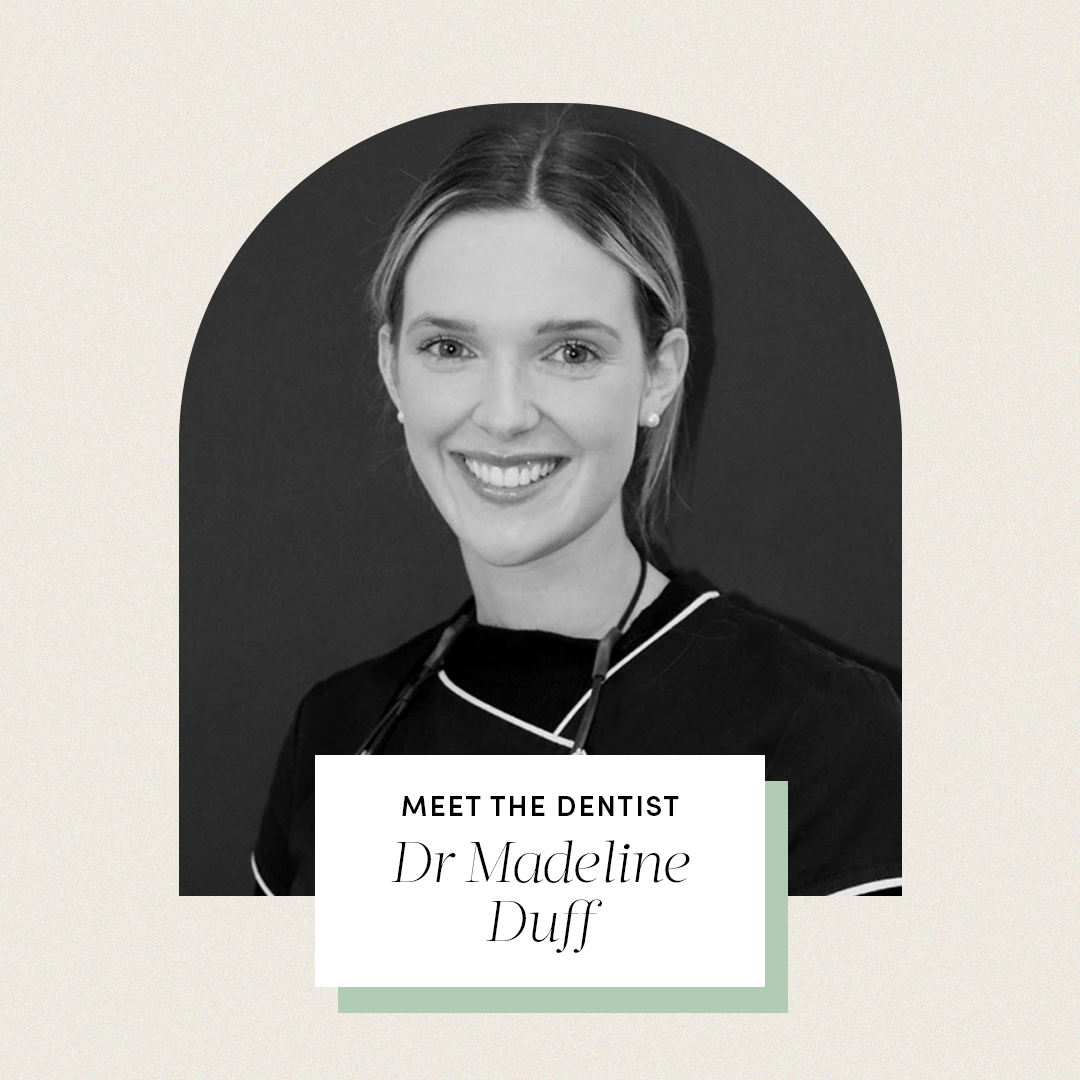 WHAT GOT YOU INTO DENTISTRY?
As a kid, I had a lot of dental work. I am actually missing a front tooth, so growing up I spent a lot of time in the dental chair in order to fix the gap. And as a lanky teenager, walking around with a missing tooth was the last thing I wanted! So the whole process really sparked my interest.
It was pretty incredible to me that fixing the gap could improve my confidence by so much. I went from smiling with my lips closed to absolutely beaming! So from there, I was set on wanting to be a Dentist.
WHAT DO YOU LOVE MOST ABOUT YOUR JOB? 
The people. I love making new connections. So the fact that my days are spent meeting one person after the next suits me well. I am also very aware that most people don't love coming to the dentist. And this may sound cliche, but helping someone get through a dental appointment that they have been really worried about is actually one of my favourite parts of the job.
WHAT'S SOMETHING YOU LIKE TO PONDER WHEN BRUSHING YOUR TEETH?
I use brushing as a time to take a couple of minutes to myself. I've started brushing with Gem Cinnamon Mint before bed, which I just love. I actually read somewhere that the scent of cinnamon helps your body relax and makes you feel less stressed - maybe it's in my head - but it works for me.
WHAT'S ONE THING YOU WANT EVERYONE TO KNOW ABOUT TAKING CARE OF THEIR MOUTH?
Don't forget to give your mouth some TLC too! So many of us have a whole bathroom cupboard of eye serums, face oils and cleansers but whiz through the brushing and flossing part of our daily routine. We use our mouths to eat, laugh, love, speak and smile - repaying it with 2 devoted minutes twice a day is the least we can do.
WHY DOES THE ORAL MICROBIOME MATTER?
We used to think that bacteria was "bad" and something that should be eradicated. We now know that the balance of our microbiome, whether it be in our gut or our mouth, is very important to our general health and wellbeing. Our oral microbiome actually starts developing as soon as we are born and has coevolved with us as human beings over millions of years. So rather than focusing on eradicating it, we are now trying to achieve and maintain a healthy, balanced oral microbiome.
HOW DO YOU THINK DENTISTRY IS EVOLVING?
In so many ways. A trip to the dentist really doesn't need to be the 'horror' it once was. New technology means we can offer our patients more predictable treatment with better outcomes. Not only that, I recently came across a statistic from the Dental Board of Australia. In their 2018/19 annual report, they found that 51.8% of dental practitioners in Australia are women! For a historically male dominated profession this is definitely a positive change.
DESCRIBE THE CLINIC OF YOUR DREAMS…
Big windows, spacious treatment rooms, 3D scanners, Netflix on the ceiling, and a signature scent (something other than rubber gloves and mouthwash) - maybe Le Labo Santal… heaven.