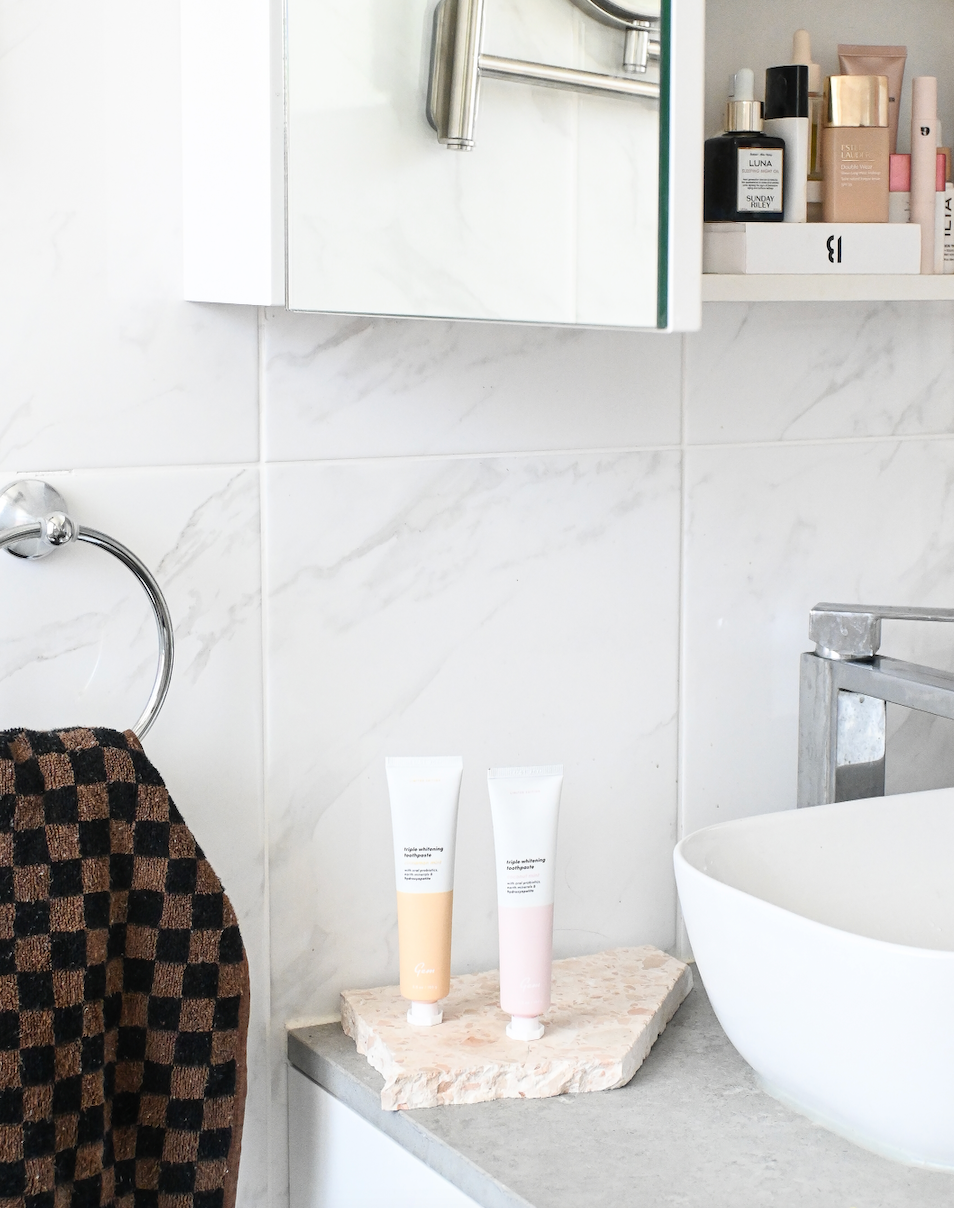 New arrivals and eternal classics, here to give you great winter face with grace.
As we brace the frosty, epidermis-drying climes of early winter in Melbourne, our skin's needs (for both makeup and maintenance) are changing, too. We're trading neon eyeliners and pastel shadows for plum-hued lips and smokier, bronzed eyes. Skin nourishment is parmount, with our wish list featuring indulgent cleansing balms that moisturise while they clean the whole day off. 
But where to begin? The tyranny of choice can be incredibly overwhelming when it comes to Mecca's well-stocked shelves of pretty and powerful things. Thankfully, Gem has tactfully compiled a small winter wishlist of Mecca products (new and old) to reboot your beauty cabinet.
And as a little added viewing recommendation for when you've finished reading, may we direct you to this TikTok account from Kate Lancaster — a renowned Australian Beauty Editor for Grazia, Harper's Bazaar, Vogue and more. Kate has helped us fill the basket quickly (and to the brim). She makes immersive in-store videos listing out her all-time favourite products from the beauty utopia that is Mecca, and we trust her advice as gospel. Definitely worth a watch.
Skin
A bit of pep under the eyes feels extra important for bleak and hard-to-get-out-of-bed mornings. Origins Gin Zing eye cream is an oldie but a goodie, bursting with a delicious zesty fragrance and plumping up delicate underye skin. For face, an aforementioned cleansing balm is subbing in for our regular milky cleansers. We've heard a lot of commotion for Alpha H's Melting Moment Cleansing Balm with Wild Orange Leaf Extract, so please add that to the pile. And when it's time to inject juicy energy back into the skin, Charlotte Tilbury's signature Magic Cream is meant to do what it says on the tin: sorcery. This one's renowned for being included in myriad makeup artists' tookits to create a flawless cavnas celebrity beauty looks, and we want in. 
Base
All eyes are on Nars' latest foundation release: the Light Reflecting Foundation. For longhaul office days, interstate work stints or lasting the distance for Friday night after work drinks, a Nars foundation is always a must. This newcomer is touted to be a "makeup-skincare hybrid foundation with a natural finish that visibly improves skin's clarity over time". In the basket you go! And to conceal our little heart out, nothing seems to beat the Nars Radiant Creamy Concealer. Perhaps we repurchase that, or give Kosas' coveted Revealer Super Creamy & Brightening Concealer a red hot go.
Cheeks
There's something incredibly luxurious about Westman Atelier, and we're enamoured. Next to try for blush has to be their Baby Cheeks Blush Stick for cream and considered colour placement. When it coms to brozning, we all need a faithful faux glow to combat the sheer lack of sun going on. Drunk Elephant's drops are a dream to mix in with your 'untannted' chosen base product, or just melted onto the skin with a bit of moisturiser. To ramp up the warmth in the evening, please send some of Charlotte Tilbury's Airbrush Bronzer our way.
Fragrance
On the fragrance front, we're going for muskier, darker, more evocative spritzes. Think By The Fireplace from Replica for an unmissably sultry winter scent. And for body care that's sure to nourish even the most scaly of sun-deprived skin? Glaze yourself in Khiel's Crème de Corps for a classic coat of skin salve, or try a newbie from the iconic Sol de Janeiro: their Beja Flor Elasti-Cream. Some say it smells akin to the almighty Bacarat Rouge — discuss. 
Oral care
One thing that never fades as the seasons change is a sellar oral care routine. And luckily, our darling friends at Mecca stock Gem's trove of products for pearly whites year-round. The only thing that might be changing is your red wine intake, therefore making pearly whitening touch-ups all the more important. May we sugget adding a Gem Natural Whitening Pen to your daily self-care remit? You'll thank us later. 
Eyes 
For a no muss, no fuss smoky eye look, we're adding a few darker shades of By Terry's classic Ombre Blackstar Cream Eyeshadow to our makeup arsenal. This shadow stick glides on the eye, only require a slight bit of blending work with fingers or a brush. So easy for late-night touchups or quick eveningwear elevation in the back of an Uber. Another must is Too Faced's Better Than Sex Mascara — your shortcut the boldest, fullest, thickest lashes that never ever go out of style. 
Lips
Hear us out, Mecca Max do a brilliantly-moisturing Pout Pop lipstick with a shiny finish. If you, too, suffer from cracked and chapped lips during the trans-seasonal shift from autumn to winter, these potent lacquers will be your new handbag mainstays. For liner, we're religiously restocking Charlotte Tilbury's Pillow Talk for obvious reasons. And when it comes to overnight masking, we're pining to pucker up with Tatcha's The Kissu Lip Mask.